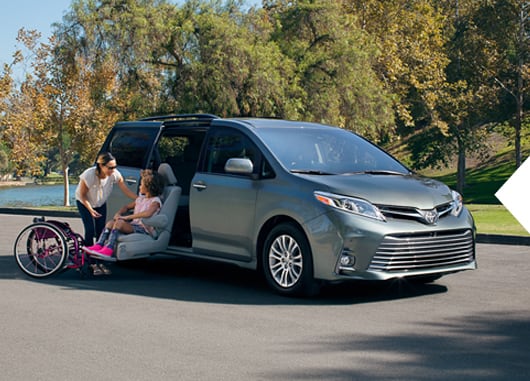 Some features of the Auto Access Seat on the Toyota Sienna in Avenel, NJ

The auto access seat is available on the LE or XLE grade Sienna van manufactured in our Princeton Indiana assembly plant. It offers ease of use with one touch operation from a wireless remote control that minimizes the amount of effort to get in and out of the Sienna. Some of the features include:
Factory designed and built by Toyota in Indiana
New car warranty, serviced at any Toyota dealership
Seat is residualized in new car financing
Available in LE, XLE grades, popular colors
Seat comes in cloth or leather & matches interior
Lift capacity rated at 330 lbs
Seat is powered by vehicle battery, not an auxiliary power source
Meets all Federal Motor Vehicle Safety Standards (FMVSS)
Child seat friendly, includes ISOFIX latches
Full-function factory seat in retracted position
Only 144 lbs heavier than standard seat
Manual override capability
Auto recline seat back for easy entry and exit
Seat mounted switches for operation by caregiver
Can be stopped at any vertical travel point
Wireless remote control - no wires to tangle or pinch
Seat control integrated w/vehicle's safety system
Perfect for anyone needing a little help getting in and out



Factory Installed Equipment

Mobility Solutions: Auto Access Seat, Engineered by Toyota
The Toyota Sienna is now available with the industry first factory installed power rotating lift-up Auto Access Seat. Toyota is the only automobile manufacturer to offer this passenger-friendly mobility model, built in the United States at our Indiana manufacturing plant.

The seat rotates ninety degrees then extends from the vehicle and lowers to a convenient transfer height, making for easy entry and exit. The Auto Access Seat matches the interior of your Sienna whether you order leather or fabric, and since it's a model grade - not an accessory - the Sienna with Auto Access Seat is covered under the comprehensive three-year factory warranty.

Caregivers for the elderly and parents of children with disabilities will appreciate the back-saving assistance provided by the power lift-up functionality and the dignity with which passengers load and unload. The Auto Access Seat meets all federal motor vehicle safety standards and is universally suited for all ISO-FIX child seats.

Because the seat is specifically engineered for the Sienna, safety features prevent the power door from operating if the seat is deployed and keeps the shifter in Park. The seat is operated by buttons on the seat base but a wireless remote feature adds convenience. The Auto Access Seat is available in either LE or XLE model grades.